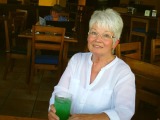 You'll never buy it again.
Directions
Mix well. Refrigerate an hour. Use for a spread on crackers or a sandwich.
Refridgerate one hour.
Serve on crackers or make a sandwich.
Most Helpful
thank you for a good pimenter(as my granny called it) cheese recipe-instead of the sugar I used sweet pickle juice -I do not like to taste the sugar crystals. I also used pregraded velveeta and then grated 2 cups of mild cheddar-as that is what I had-I mixed it all up with a hand held mixer and added Applewood bacon bits-yummy
I used pre-shredded Colby/cheddar mix and followed the remaining of the recipe. It was great! Vinegar was the key!
Amazing! It was a little heavy on the mayo for my taste, so I added some extra grated cheese and it was perfect! Thanks for posting- this was my first time making pimento cheese and I know I won't need to look for another recipe for next time! So simple, yet so good!