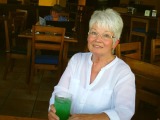 You'll never buy it again.
Directions
Mix well. Refrigerate an hour. Use for a spread on crackers or a sandwich.
Refridgerate one hour.
Serve on crackers or make a sandwich.
Reviews
Most Helpful
I used pre-shredded Colby/cheddar mix and followed the remaining of the recipe. It was great! Vinegar was the key!
Amazing! It was a little heavy on the mayo for my taste, so I added some extra grated cheese and it was perfect! Thanks for posting- this was my first time making pimento cheese and I know I won't need to look for another recipe for next time! So simple, yet so good!
Delish! The vinegar is key in this recipe. If you don't have sharp cheddar on hand, use a 1/4 tsp (or a dot more) of cayenne pepper. When serving on white bread, consider grilling it like a grilled cheese sandwich... out of this world!