Hilde's Norwegian Waffles
Dav59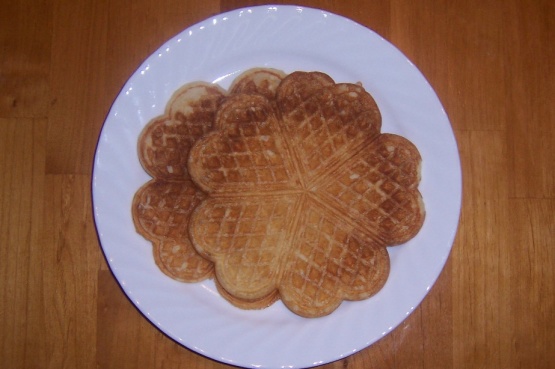 I have several recipes for waffles but I always come back to this one. I only use NATRON in my waffles but I have substituted NATRON with baking soda in this recipe. I think both NATRON and SOURED MILK is hard to find in the US. Norwegians always use a 5-heart iron to make waffles but it's no requirement. Serve them warm with any topping your heart desires.

These were okay waffles. They tasted fine, but they were probably not the best I've ever made. I chose to use this recipe because I had sour milk that needed to be used. The batter seemed a little thin, even though I used the recommended amount of milk. The waffles turned out fine, but the batter was messy to work with. Makes a good amount of waffles which is nice if you want some leftover to freeze for quick breakfasts later.
Stir baking soda into 1 cup soured milk.
Melt and cool the butter.
Whisk together eggs, sugar and vanilla.
Whisk in melted, cooled butter.
Add in flour and baking soda/soured milk. Stir.
Add the rest of the soured milk. You might need to add a bit extra but the batter should be pretty thick.
You should make the waffles right away but you can keep the batter in the fridge until the next day.