Hickory Smoked New York Steaks
teresas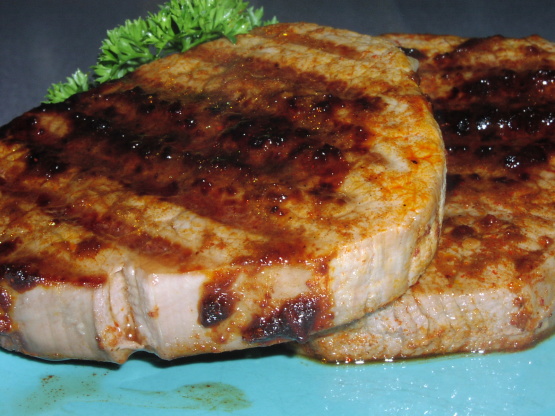 Grilled steaks with a distinct Southwest flair. This was a free recipe offered by my local grocery store.

Found some fairly large steaks at the supermarket, and was told by the butcher they were a little larger than average, so I increased the rub by 1/3. I made these as posted, except in step 4, I had hickory chips one one side of the grill, and charcoal on the other side. It worked perfectly as these steaks were on top of this world. Loved the hickory flavor, and the rub was very satisfying. Nice quick delicious dinner this was . Well worth the 5 stars. Made for PRMR tag..
Combine chili powder, sugar and garlic in a bowl. Add olive oil and combine to paste-like consistency. Rub chili powder mixture into both sides of each steak.
Heat one side of the grill and add hickory chips (or wood of your preference). When coals are hot, place steaks on grill so they are away from fire and not directly over heat. Grill for 8 minutes, turning once.
Place hickory chips to the side (or remove, if possible). Or heat other side of grill, omitting hickory chips.
Finish by grilling steaks for another 4 minutes each side (or to desired doneness) directly over flame, without hickory chips.