Nimz1466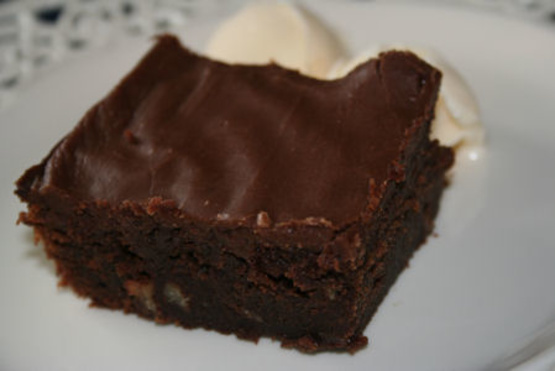 There are a couple other recipes for these brownies, but mine is different. I got this recipe from my mother-in-law more than 15 years ago. All I know is they are called Hershey Syrup Brownies and they are very moist, rich and delicious. I make them whenever I am asked to bring brownies to a potluck. The fudgy icing make these brownies very rich. Feel free to omit the icing if you don't want them as rich. The brownies themselves are very moist and chocolaty.

It literally tasted like an egg covered in chocolate!! I copied the recipe to a T and I don't know where I went wrong, as everyone else loved it!! Disappointed, to say the least!
Preheat oven to 350 degrees. Grease the bottom of a 9 by 13 inch pan or jelly roll/brownie pan.
After melting butter in microwave, cream sugar and butter together. Add eggs, one at a time and beating well after each addition.
Add vanilla extract.
Add flour, mix well.
Add Hershey syrup, mix well.
Add chopped nuts, if using.
Pour batter into pan. Bake for 35-40 minutes or until brownies test done with a toothpick.
When the brownies are almost done baking, prepare icing.
Bring to boil in the microwave, the butter, cocoa and 1 T. milk.
In a mixing bowl, add confectioners' sugar. Add the cocoa mixture to the sugar and beat well. Add 1 t. vanilla extract. Add the rest of the milk. Add enough to get the desired spreading consistency.
Let brownies cool about 5-10 minutes. Spread icing on brownies. Sprinkle with some more chopped nuts, if desired. The icing will harden to a fudge-like consistency.
Let brownies cool completely before cutting into squares.