Herbed Red Potatoes and Baby Green Beans
Prep 15 mins
Cook 20 mins
I found this recipe while surfing the web. It called for fresh; however, it being late in the season, fresh were not available so I used frozen.
Directions
Place the scrubbed and quartered potatoes in a saucepan along with the garlic cloves; cover with cold water.
Bring to a boil over medium-high heat.
When the potatoes come to a boil, reduce the heat and simmer until tender, about 15 minutes; drain immediately.
Place the frozen beans in a 2-quart microwave safe dish, cover and microwave for 2 to 3 minutes.
Stir the beans and microwave an addiitonal 1 to 2 minutes or until crisp tender.
Return potatoes and garlic to saucepan, drizzle with olive oil and chicken broth.
Toss to coat evenly, season with salt and pepper, add beans and basil; toss again.
Serve immediately.
Reviews
Most Helpful
Absolutely delicious! There is something special about red potatoes and green beans. Add some garlic, basil, olive oil, chicken broth, salt and pepper and you can color me happy! I added the frozen green beans to the boiling potaotes for the last 3-4 minutes and drained them together. Yummy!!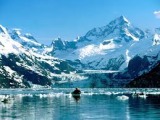 REALLY delicious. I have to admit I got confused about when to put in the garlic. Are you supposed to boil them with the potatoes? I didn't want raw garlic in there, so I just put in a bunch of garlic powder when I put in the basil. It was DELISH! Even my 2 year old had a serving. Thanks for sharing (and if you can, let me know what to do with that garlic!) THANKS!