Hedgiehog's Tandoori Chicken
Jostlori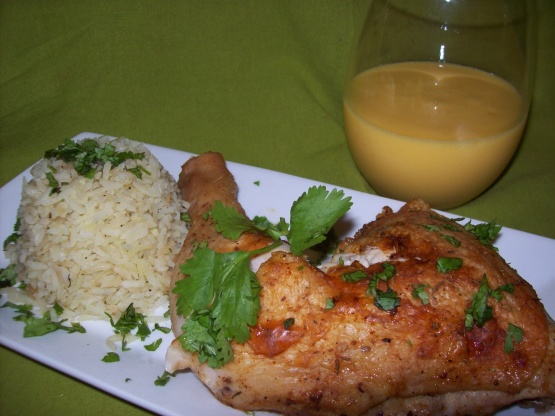 This is a fragrant dish that can be served any night of the week. Please note there is marinating time required so plan ahead. If you don't have ginger paste you can use fresh ginger. However, I find the paste very versatile. You can find it in any Indian shop.

Made this today for PAC Spring 2012 - it's wonderful! DH loved it and we'll definitely be making it again. Unfortunatley, the grill was out of gas (poor planning) so we put it in the oven instead. The chicken was moist and flavorful, still a keeper, and it smelled awesome while cooking. Next time, will try the grill. Served it with cilantro rice and a nice tangy mango lassi.
Put onion, garlic and ginger in food processor and blend.
add yogurt, lemon juice and spices.
pulse lightly.
make diagonal cuts across each large piece of chicken.
in Plastic bag, combine chicken and marinade mixture.
Marinate in refrigerator for a minimum of 8 hours; ideally overnight.
Prepare grill; spray with non stick spray.
remove chicken from marinade and discard marinade.
cook chicken until juices run clear.
serve with rice pilaf and fresh vegetables for a lovely meal.