loof751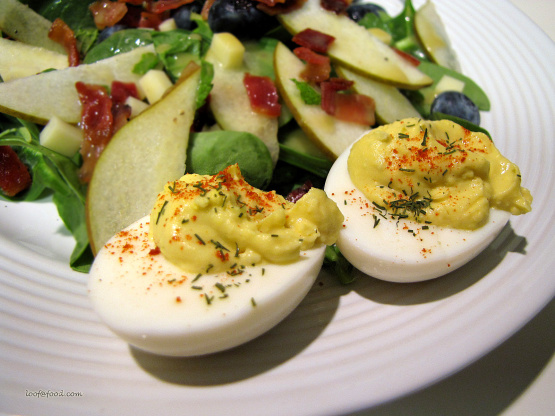 I always plan for a "tester" or two...my husband likes a early sampling before everyone else partakes! A creamy egg filling with just a little kick - hope you like them, too!

Another tasty recipe!! Made this for Spring PAC 2014 and cut the recipe down but otherwise followed the instructions. Love the kick from the hot sauce. Served along with your recipe#350203#350203 and recipe#126340#126340 by chef#48150#48150. We had a great dinner!
Place eggs in large saucepan and cover with lukewarm water. Bring to hard boil; turn off heat, cover and let stand for 20 minutes. Drain, rinse eggs under cold water and allow to cool to room temperature. Peel, halve, place the yolks in a mixing bowl and mash with a fork. Mix together the remaining ingredients and add to mashed egg yolks. Place in small food processor and blend until smooth.
Using a piping bag (or similar filling tool)with a medium-to-large tip, fill egg halves. Or, if you don't want to use a piping bag, just spoon in egg mixture. I love fresh dill, my husband doesn't, so half the eggs get dill and paprika for every one!