Hearty Roasted Vegetable Sauce
PanNan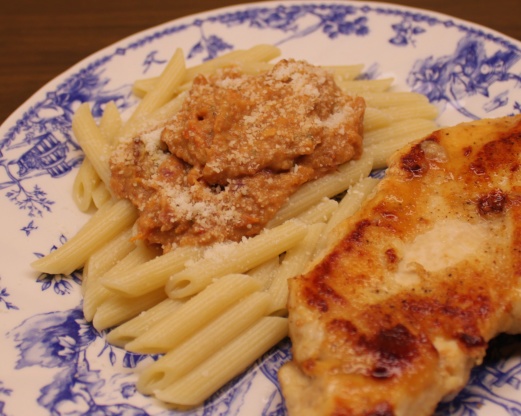 This is a rustic, thick pasta sauce that strays from the traditional jarred sauces you see. It's hearty, healthy, and filling. The cutting of the vegetables does not have to be precise as everything is pureed at the end. Even sized cuts simply allow for even roasting.

Top Review by PanNan
This is a great way to eat lots of veggies. Although I followed the recipe this time, I can see using this as a base recipe to alter depending on ingredients you have on hand, and adding some herbs and/or spicy peppers. I have to admit that I was tempted to skip the blending process because the roasted veggies were so beautiful.
Preheat oven to 450.
Toss vegetables in olive oil, salt, and pepper in a 13x9 pan. Spread vegetables into a flat layer.
Roast for 15 minutes.
Remove from oven. Stir in vinegar and garlic. Spread vegetables into a flat layer.
Return to oven for 5 more minutes.
Remove from oven. Allow to cool slightly.
Puree in the food processor to a coarse, pesto-like consistency.
Serve over your favorite pasta.