Hearty Chicken & Noodle Casserole
casey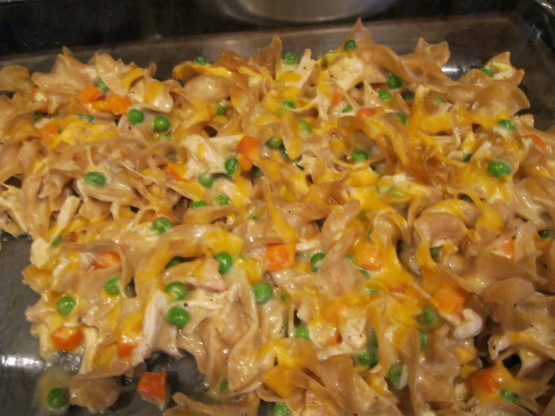 This can be made in minutes. Recipe is from Campbell's.
Top Review by Ellee
I first made this last month; I was looking for easy casserole recipes to stock my parent's freezer after my mom broke her hip, and a co-worker recommended this. So I assembled and immediately froze into 4 single-portion tupperwares. I never tasted it and didn't plan to make it again b/c I'm usually not a fan of recipes containg cream of *something* soup and frozen veggies. Well, my mom called me up last week and RAVED about it and asked for the recipe. So I had to try it for myself, and knew it froze well :-) so made a double* batch (*more than double chicken, veggies, pasta and cheese) and divided between 3 8x8 sized containers. 2 I froze and 1 I cooked for dinner. It was a big hit! DH gave it a 5, boys gave it a 4, but I definately give it a 5 for taste and especially ease of prep. For veggies I used a bag of 'chinese' vegetables. If you're not a huge fan of soupy casseroles -do what I did and increase the amount of the other ingredients by 50% or so. I added the cheddar cheese right from the beginning and cooked covered for the 1st 20 minutes, then needed 15 minutes more to heat through. To freeze: mix cooled chicken and pasta with the other ingredients and stir in the frozen veggies at the last minute. Top with cheese and freeze immediately. (This way the veggies won't partially defrost only be to frozen again.)
1

(10 3/4 ounce) can Campbell's Cream of Mushroom Soup
1⁄2 cup milk
1⁄4 teaspoon ground black pepper
1⁄4 cup parmesan cheese, grated

1

cup frozen mixed vegetables

2

cups cooked chicken, cubed

2

cups medium egg noodles, cooked and drained
1⁄2 cup cheddar cheese, shredded
Stir soup, milk, black pepper, grated Parmesan cheese, vegetables, chicken and noodles in 1 1/2 quart casserole.
Bake at 400 degrees for 25 minutes or until hot.
Stir.
Top with cheddar cheese.