Kim127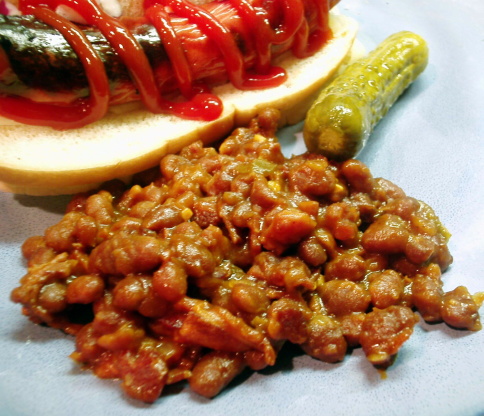 These beans have lots of flavor. I don't care for beans that are to sweet but you can add 2 tablespoons of brown sugar to sweeten these up. They go excellent with grilling. I use Bush's original beans and Jack Daniels BBQ sauce but you can use what you prefer. Reduce baking time to 1 hr if you don't like a thick beans.

This was excellent. I am not a big fan of baked beans - too sweet and gooey for me. I substituted a large can of mixed beans and threw in a shot of Jack Daniels. Really good and a lot better the next day.
Preheat oven to 350 degrees.
Cook bacon in a skillet until almost crispy. Remove bacon from skillet and roughly chop, but do not drain skillet.
Use bacon fat to saute onion and bell pepper until translucent, Drain.
In a oven safe bowl, combine all ingredients and mix well. Cover with foil.
Bake for 1 1/2 hours.