Healthy Hot Cocoa With Almonds
Debbwl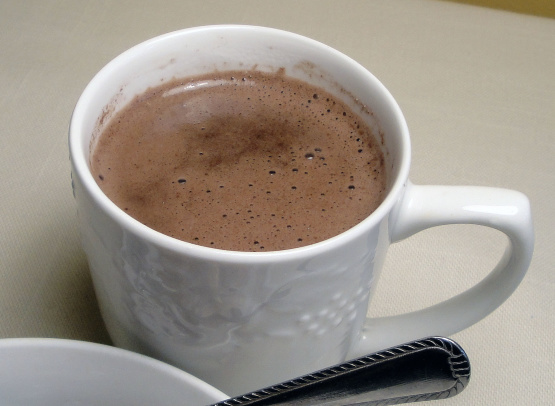 Perfect way to start the day. Cocoa powder is actually quite healthy, at least when the milk is left out of it. The almonds aren't just a beneficial alternative, it makes for a very tasty and distinct hot cocoa.

First of all, if anyone is interested in making this they need to be prepared for a non-traditional beverage texture. I've spent time in Central America where they drink blended dry oatmeal so I figured I was game. However, the texture was still an issue for me and I think I got the almonds as fine as a blender can get them. (A coffee grinder would do even better) I needed the full amount of sugar and still found the final result a little "thin" - lacking creaminess. I agree with Debbwl that Almond milk in place of all the water would be worth trying but that would make it a different recipe! Tagged for bargain basement.
Combine water and almonds in a blender. Blend until smooth. It's hard to blend almonds perfectly smooth. I dont mind some chunks, but you can always blend more if you want.
Add remaining ingredients EXCEPT boiling water and stir (or give it a short whir with the blender).
Poor into a cup, along with the boiling water.
TIP: This should result in a temperature that is just right for scoffing down immediately. If you want it hotter - let's say you don't want to chug it in one big swallow - use more boiling water and less blending water to suit your needs.