I saw this recipe in an issue of Men's Health and it sounded so delicious I had to try it. I love it so much that I've eaten it for breakfast every day this week.
Directions
Mix oats, milk, almonds, ginger, honey, and flaxseed in a microwavable bowl.
Microwave for 2 minute.
Top with yogurt.
Most Helpful
Made this very simple recipe twice over for the 2 of us to enjoy as a very late night snack (well, more than just a snack, really!) & it was absolutely delicious & comforting! Definitely something to make again, whether for early morning or late night! Thanks for posting the recipe! [Made & reviewed in I Recommend recipe tag]
I can't believe I never reviewed this, especially since I have made it so many times! A quick, easy and healthful breakfast that I highly recommend!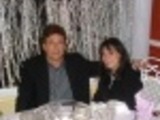 Have been saving this to give a try and finally got around to it. It was delicious. The only thing I did differant was use steel oats as that's my favorite. Since they are not quick-cook I cooked them first a per the box directions. Then put all the rest of the ingrediants in a bowl and heated in the microwave as instructed and it turned out great. I've been wanting to find a way of adding flax seed to my diet and this works great. I'll be using this often for that quick go to breakfast.