teresas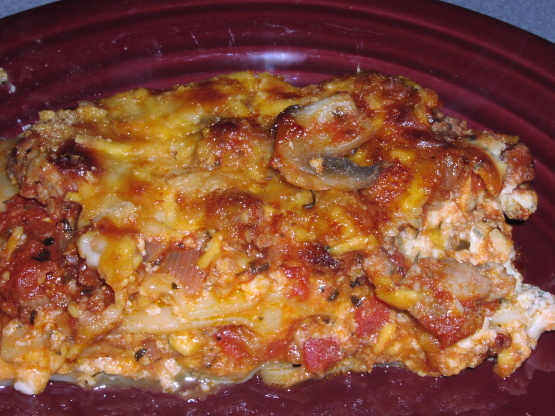 This is my way of making lasagna..inspired my my DSIL's recipe. You get all the flavor and only a little of the guilt! You can cut back on the garlic if it's not your thing. You can use full-fat ingredients too of course. Can be made up to two days ahead and stored in fridge.

Great lasagna! I added more mushrooms, curshed re pepper flakes, and used low-fat mozzarella & fat-free sour cream. The recipe says it makes 10 servings, more realistically this makes 6-8. Leftovers were not as good as when it first came out of the oven, but I still enjoyed it.
Cook lasagna noodles according to package directions and drain.
Meanwhile, brown meats with mushrooms, onion and garlic. Drain and return to skillet or pot.
Add tomatoes, tomato paste, basil, and marjoram to meat mixture. Simmer over low heat for 15 minutes, stirring often.
Preheat oven to 375.
Combine egg substitute (or beaten eggs)cottage cheese, sour cream, 1/2 cup parmesan, parsley, salt and pepper.
Place half of the noodles in the bottom of a 13x9 baking pan.
Spread half of the cottage cheese mixture over noodles, then half the meat, half the cheddar and half of the mozzarella.
Repeat layers and top with 1/4 cup parmesan.
Bake 40-45 minutes or until bubbly.
Let stand 10 minutes before cutting.