He-man's Tuna Noodle Casserole
Juenessa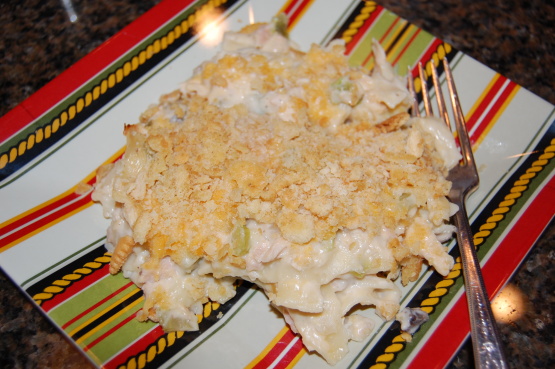 The best comfort food of all time. Be careful, you might just lick your plate!! I first had this in the hospital after my first son was born and spent months looking for the recipe. It is nothing like the tuna casserole I got as a kid! The red bell pepper and Ritz are vital so please don't substitute.

Followed directions except added approximately two cups of shredded cheddar cheese to the mix. Without the cheese, I'm afraid we would've found it a bit too bland. With the cheese, everyone enjoyed it very much and it is something I would make again. You are right, Jaymee this is great comfort food!
Preheat oven to 425 degrees.
Cook noodles according to package directions in lightly salter water (Do not overcook).
Drain and toss with butter.
Set aside.
Meanwhile, combine soup, milk, sour cream, salt, and vegetables in a large saucepan.
Cook over low heat stirring often for about 15 minutes.
Add tuna.
Combine tuna mixture with noodles.
Spoon into a 2 quart oven safe dish.
Sprinkle with crackers.
Bake 20-25 minutes.