rosie316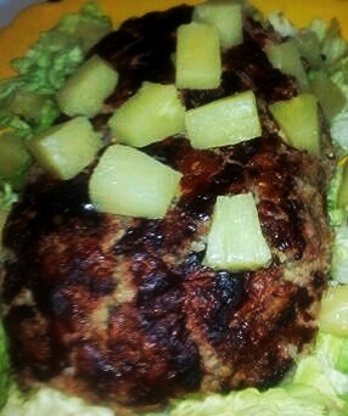 This is a recipe I concocted, using Spam and pineapple, two very common ingredients in Hawaii. Spam is a very popular food group, hehehe, in Hawaii!

I made this a few weeks ago and forgot to post my review. Well this was certainly different from the normal meatloaf that I make. What a nice change of pace. The little bits of pineapple inside gave a unique flavor to the loaf. The only trouble I had with this recipe is that it did not stay in a loaf shape very well before or after baking. It basically fell apart when I moved it to the serving platter. I think it may be because of too much juice. The pineapple itself holds a lot of juice, so next time I make this (and there will be a next time) I will probably drain the can of crushed pineapple before adding it to the meat. I also had a can of pineapple chunks that I added to the top during the last several minutes of baking (just to show what the flavor would be, and to hide the cracks). The Spam is quite clever... who dreams this stuff up?! Thank you for posting. (Made for New Kids on the Block tag)
Preheat the oven to 375°F.
Pulse the spam in a food processor, do the same with the onion. Mix the rest of the ingredients, except the BBQ sauce.
Prepare a 9x13: pan by lining it with foil.
Form the mixture into a loaf, then place it into the pan. Top with the BBQ sauce.
Bake for 1 hour.