Harira (Moroccan Chickpea Soup)
Syrinx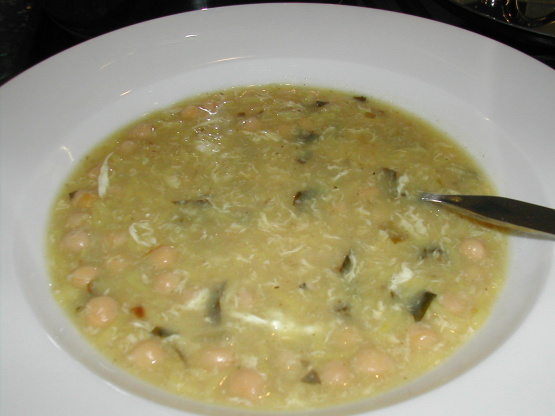 A lovely, nourishing soup from Morocco. There are many variations; this very tasty (and interesting one) comes from David Scott's "Middle Eastern Vegetarian Cookery". Posted in the hope of joing the North African and Middle Eastern Zaar Tag game :-) Please note that the "pint" I mention is a British pint of 20 fl oz.

Just a comment here. Harira and/or Morocco is not Middle Eastern and there is only one recipe for the national soup of Morocco with very minor variations; all being tomato based, never containing saffron, rice or eggs. This looks like a fabulous soup though David Scott is not correct in calling THIS a soup from Morocco. Enjoy! Hajar
Put the chickpeas, onion, olive oil, parsley, saffron and cinnamon into a large, heavy saucepan. Mix well, and heat for about 4 minutes, stirring constantly.
Add the 5 pints of water, stir, bring to the boil, then reduce the heat, cover and simmer for about an hour, or until the chickpeas are cooked. Please note that chickpeas seem to vary wildly in their cooking times, so do keep an eye on it!
Add the rice, return to the boil, then reduce the heat and simmer until the rice is cooked (10-15 minutes for the sort of rice I use).
When the rice is just cooked, beat the flour and 6 fl oz water into a smooth paste and stir it into the soup.
Continue cooking, stirring occasionally, for a further 15 minutes.
Remove the soup from the heat, add the lemon juice, then season to taste with salt and pepper. If the soup is too thick for your liking, you can add more boiling water to thin it down a bit.
Stir in the lightly beaten eggs, and allow to stand for a few minutes until the eggs are cooked. Serve hot.