Grilled Tuscan-Style Steak With Focaccia Salsa
troyh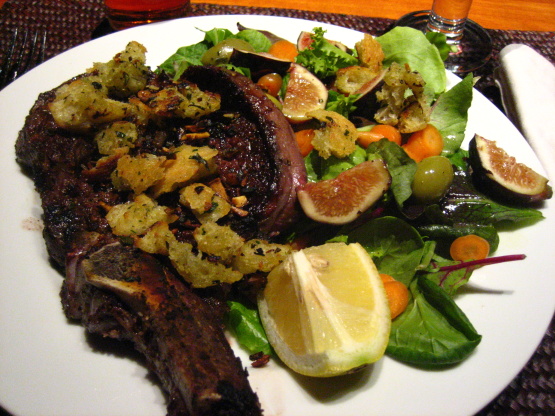 This is fun and easy for a small gathering. Adapted from Dishing with Style by Rori Trovato.

I really liked the steak but the foccacia salsa, while yummy, didn't really do anything for the steak. It was just too weird for me I guess. Like eating croutons with my steak? I really liked the lemon with my steak though. Will do that again.
For steak: Rub with olive oil and season with salt and pepper.
For porterhouse steaks: Grill 6-7 minutes per side for medium rare; 7-9 minutes for medium. For rib eye or shell steaks: Cook 5-6 minutes per side for medium rare; 6-7 minutes for medium. Remove; squeeze a wedge of lemon on each steak.
For foccacia salsa: Rip bread in to small pieces. Set aside.
Heat olive oil in a large saute pan over medium heat. Add shallots and cook 3 minutes, or until golden. Add garlic, bread, rosemary and parsley, then stir with a wooden spoon until mixture is evenly coated with olive oil and bread is golden brown, 6-8 minutes. Remove from heat and season with salt and pepper.
Presentation 1: Portable Porterhouse.
Pass whole steaks around the table on a wooden cutting board with a bowl of salsa and remaining lemon wdges.
Presentation 2: Sit-Down Dinner.
Slice steaks against the grain into 1/4" pieces. Overlap slices on a plate; make an S pattern on meat with 1/2 cup of salsa. Garnish with lemon wedges and parsley.