Grilled Salmon With Corn, Tomato, and Avocado Relish
Meekocu2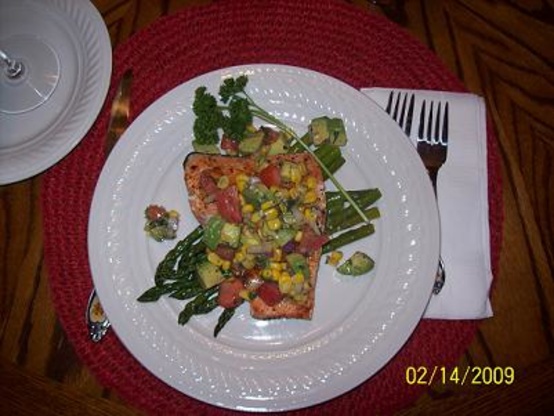 This is an Emeril's recipe I got off the Food Network site. For something so simple, this is SO tasty!! Grilled asparagus goes well with this.
In a medium bowl, add corn, tomatoes, avocados, onions, parsley, olive oil, lemon juice, 1 tsp salt, and 1/4 tsp pepper. Toss to combine and set aside.
Preheat grill to medium high.
Lightly brush the fillets with olive oil and season flesh side with 1/8 tsp of the Essence, 1/4 tsp salt and a pinch of the remaining pepper. Add to grill, skin side down, and cook until skin is crisp about 4-5 minutes. Turn and cook until the salmon is opaque and medium rare about 4 minutes, or how ever you like your fish cooked.
Serve with relish on top with the grilled asparagus.