Grilled Pimiento Cheese Sandwich
lazyme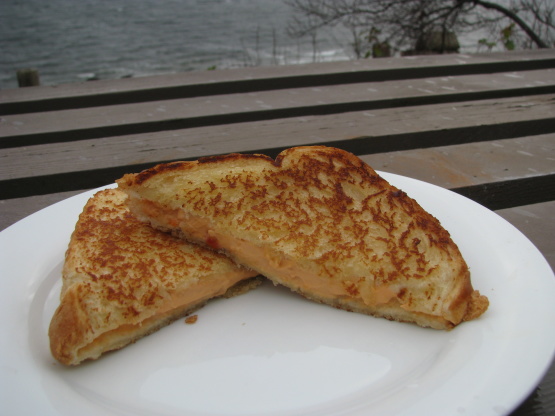 I made this when I wanted a grilled cheese and I didn't have any cheese slices and I didn't want to go to the store. This is really great served with a bowl of tomato soup.

the best ever! family was skeptical at first but they ended up loving it! used mayo to "butter" up the bread & it complemented the pimento flavor very well. Also these grilled pimento cheese sandwiches are phenomenal in pinera bread brocolli & cheese soup! (;
2

slices bread (i used white bread)
1 1⁄2 tablespoons pimento cheese (any kind will do)
1⁄2 teaspoon margarine (or less)
On one side of each slice of bread, thinly spread margarine.
Place one piece of bread in cold skillet, margarine side down.
Spread pimiento cheese on bread in skillet.
Place other slice of bread on top of cheese, margarine side up.
Turn on stove, and brown on each side for about 4 or 5 minutes or until lightly browned.