Grilled Lime-Cilantro Chicken With Mango Salsa
Rita1652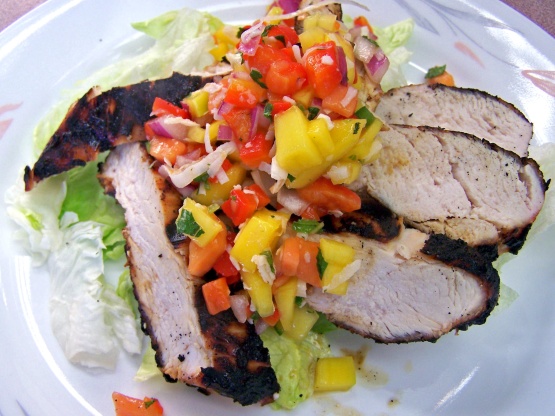 The combination of marinade and grilling produces a tender flavourful piece of chicken. Mango Salsa is the perfect accompaniement. Get your tastebuds ready for a real thrill! Plan ahead as chicken needs to marinate for 2 to 4 hours. This is not reflected in the prep times.

This was really good and will probably make it again. I increased the amount of ingredients by half except for the pepper, I used a yellow one and didn't have quite enough jalapeno that could have made the difference, but next time I may add a garlic clove to the salsa for a little more kick. The chicken was delicious, I used breasts bone-in, I might add a few red pepper flakes next time we like spicy food! I also used almost a full bunch of cilantro. Thanks for a different spin on chicken!
Prepare the marinade: In a small bowl, combine all the marinade ingredients and whisk to combine. Taste for seasoning and adjust if necessary.
Place the chicken breasts between two sheets of plastic wrap and pound to flatten slightly with a rolling pin. Arrange the chicken breasts in a large shallow glass dish and pour the marinade over, Turning to coat evenly. Cover and refrigerate for 2 to 4 hours, turning several times to make sure the marinade covers all the chicken.
Meanwhile prepare the salsa: Place the red pepper in a preheated 425*F oven and roast until skin is well blistered. (alternatively roast over a gas flame) Place blistered pepper into a zip lock baggie and close the bag. Let it sit for about 10 to 15 minutes. Remove from bag. Slip peel off and remove seeds. Chop roasted pepper and combine with remaining salsa ingredients. Mix well, cover and chill until ready to serve.
Prepare a charcoal or gas grill for medium high heat grilling. Remove the chicken from the marinade and place on grill rack. Grill, turning once for 7 to 10 minutes on each side, or until juices run clear. Alternatively, you may broil the breasts for 7 to 10 minutes on each side, once again, until the juices run clear.
To serve, place the chicken on individual plates and spoon the mango salsa on top.