Grilled Ham and Mixed Cheese Sandwich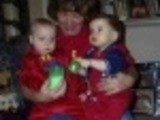 What a comfort food on a cool day! Serve with your favorite soup or with chips and a pickle.
Directions
Combine the cheeses, mayonnaise, mustard and onion.
Spread this mixture on 4 of the slices of bread.
Top each cheese mixture with a ham slice, and cover with another piece of bread.
Butter the top half of the sandwiches and invert onto a hot nonstick skillet, cooking over a medium heat until browned (about two minutes).
Butter the ungrilled side and turn and grill until browned (about two minutes).
Most Helpful
I really don't know how to rate this.The sandwich tasted good but was over the top rich for us. If I make this again I will put less of the cheese mixture on it. Thanks Trisha W. Bullwinkle
We will never eat plain old grilled ham and cheese sandwiches again....these sandwiches are awesome! I used turkey ham and whole grain white bread tonight and our sandwiches were wonderful. The cheese mixture melts nicely and tastes so good with the tang of the mayo and mustard. We will definitely be making these again! UPDATE: We had these sandwiches for breakfast topped with a fried egg and it was delicious, a meal in itself!

Yum Yum! I made this with meatless ham on multi-grain bread. I reduced the recipe to work for one person.Thank you for a nice light supper!