Grilled flank steak, mandarin style
skat5762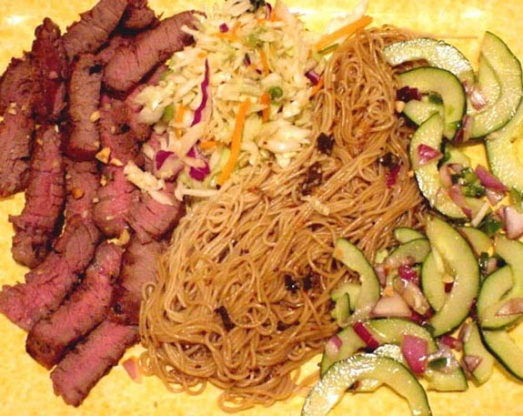 Flank steak (or skirt or sirloin) prepared with a Chinese twist. (Works well with pork or chicken, too).

This was absolutely incredible! My fiancee is an extreme carnivore, and steak is most certainly one of his specialities. This was succulent... the soy sauce and garlic meet in your mouth in the most unforgettable, succulent manner. The steak was tender, juicy, and very flavorful. We like our steaks more on the rare side, so that is how we prepared it. This steak goes wonderfully with the Soba Noodles (by pollen), Spicy Cucumber Salad (by Bergy), and the Asian Slaw ( by Dorothy Parks). An incredible marinade- let this one sit in your fridge for at least a day!
1

flank steak, trimmed (skirt or sirloin can be used)

Marinade

2 -3

cloves garlic, minced

2 -3

slices fresh gingerroot, minced

2 -3

scallions, chopped

2 -3

teaspoons light soy sauce (or Kikkoman)

1

teaspoon sugar

1

teaspoon sesame oil

1

teaspoon dry sherry
hot sauce or hot pepper flakes

1 -2

teaspoon vinegar (optional)
Works well with chicken or pork too.
Score the steak by making Xs with a sharp knife.
Marinate at least 3 hours.
(I usually prepare it the night before I use it).
Grill (or broil) to the desired degree of doneness.
Slice and serve with potatoes or rice and a salad.
Hint: when using flank or skirt steak make sure you slice AGAINST THE GRAIN or it will be too tough to eat!