Grilled Chile-Cheese Toasts
lazyme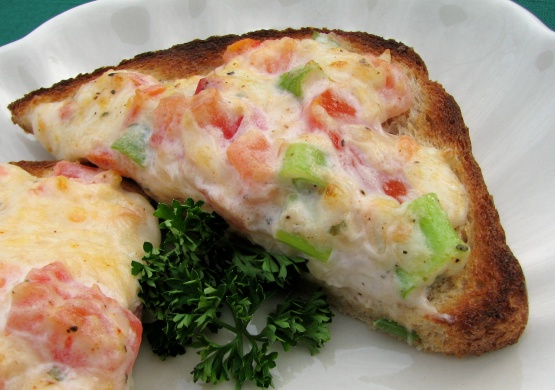 Simple. Delicious. Fun. Fast. Comfort Food. What a great twist on the grilled cheese..yum.

I have made this twice now and sorry I forgot to review it. Being the recipe of the day ... it reminded me to make it. Once as a sandwich and once as an appetizer.

The first time I used a whole wheat english muffin and I had it for lunch which was great. I prefer scallions (white and green parts) vs a white onion, but otherwise followed the recipe.

The second time I made it as an appetizer. I did change a few things.
- I used toasted baguettes for individual bites
- I used a red jalapeno along with the scallions
- And I added a few green chilies'

It was fantastic. I made it for a small party and not one was left. A great little appetizer, but also a great lunch or snack. I could have this and a bowl of soup for dinner and it would be perfect. A nice easy recipe.

Thx, I will definitely make this again and again
Preheat the broiler. In a large bowl, mash together all of the ingredients except the bread.
Arrange the bread slices on a baking sheet and toast them until lightly browned. Let cool slightly, then turn the toasts over and spread the mozzarella cheese mixture on top. Broil for 3 to 5 minutes, until melted and lightly browned. Serve hot.