VickyJ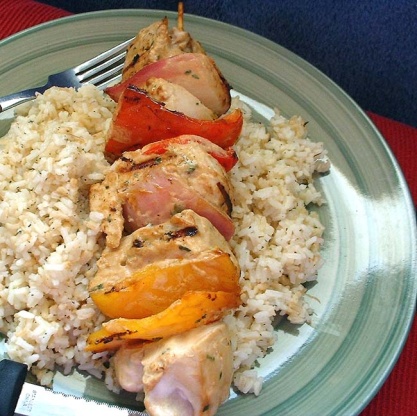 This is a great, healthy dinner, lunch or appetizer that fills you up, but doesn't leave you feeling guilty. I love the combination of the chicken with peppers and onion. You can also use your broiler for this recipe.
(4 hours preparation includes the time to marinate the chicken.).
-Combine yogurt, soy sauce, lime juice, garlic, ginger and fresh parsley. Add chicken chunks & refrigerate in a sealed container a few hours.
-Preheat grill. Peel onions & cut into thick slices, also chunk peppers.
-Alternate chicken, onion and peppers onto bamboo skewers. Remove excess marinade.
-Brush w/olive oil & season w/salt & pepper. Grill approximately 10 minutes; turn once & cook until brown & cooked through.
-Serve over a bed of hot, cooked rice or fresh salad greens. You can even have as an appetizer with your favorite dipping sauces (bbq, honey-mustard, teriyaki, etc).