Marinade for Chicken Kabobs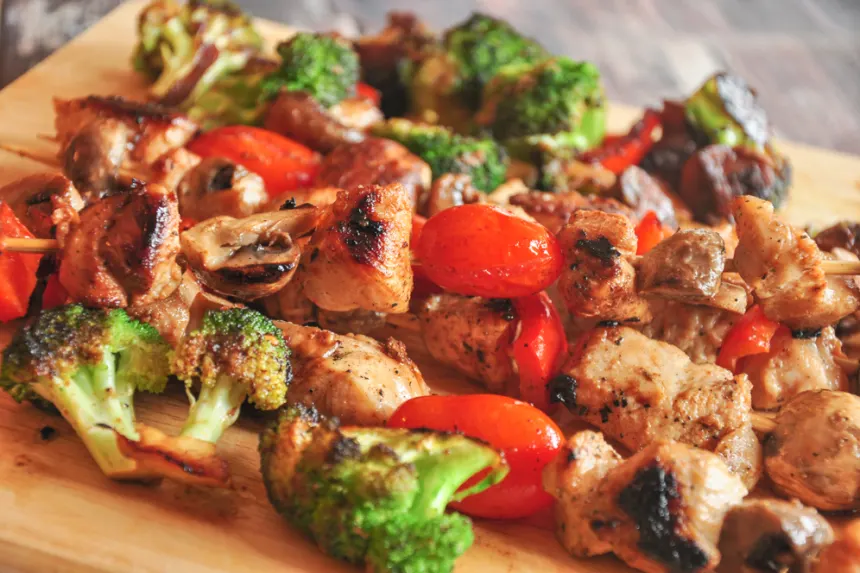 photo by SharonChen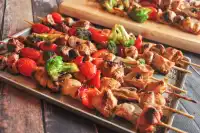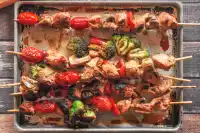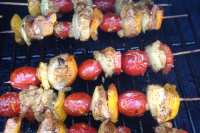 Ready In:

5hrs 20mins

Ingredients:

8
directions
In a bowl mix together the oil with soy sauce, honey, lemon juice, garlic slices, black pepper and cayenne.
Place the chicken cubes in the bowl and toss to coat with the marinade.
Cover and chill for 4 hours.
Remove the chicken from the marinade.
Pour marinade into a saucepan then remove the garlic slices and discard; boil for 10 minutes over medium-low heat (start timing the 10 minutes after boiling starts).
Thread the chicken onto wooden skewers that have been soaked in cold water for 30 minutes.
Place the skewers on a grill and cook for 18-20 minutes or until the chicken is cooked through, basting with cooked marinade during the last 10-12 minutes of cooking.
Delicious!
Questions & Replies

Why in the world do you say you can double the meat, but you tell everyone to make it in two separate marinades? You said: "This recipe may be doubled to 10-12 breasts but prepare two separate marinades in two separate bowls, do not combine the doubled marinade into one bowl." Please, tell us all why that instruction is important? Thank you.

 
Reviews
Very good and easy to make marinade. Since it was just two of us, I cut the recipe in half and it worked fine for two organic chicken breast halves. The full recipe would be sufficient for the stated amount of chicken, but in my opinion the number of servings is way off. Six chicken breasts would definitely be enough for 6-8 people, not just 4 unless they were REALLY hungry. With the two chicken breasts we had, we still had leftovers. A couple of additional comments not included in the recipe are that 1) after boiling the marinade it separates, so I used a whisk and vigorously stirred it until it was combined again; 2) there is no mention of the grill temperature, so we grilled them at 375 degrees which worked for the 18-20 minutes time frame. As for the recipe itself, I used a bit more garlic, but otherwise followed the recipe very closely. The amount of cayenne was just fine, but next time (and there will be a next time for sure), I may add a bit more cayenne pepper since we like a little more kick, but that is just a personal preference of ours. I might also suggest using a flat pan instead of a bowl since the marinade tends to separate and I think the coverage would be better in a flat pan. Alongside the chicken, we grilled (on separate skewers) a mix of mushrooms, pineapple, sweet peppers (I had orange so that is what I used) and cherry tomatoes and brushed them with olive oil prior to placing on the grill. I also used metal skewers and I served it with a rice pilaf - http://www.food.com/recipe/greek-lemon-pilaf-36346 which went well with the chicken.

 

I scaled this back to 4 breasts (2 2/3 serves but there was more than enough for the 3 of us and with some left over). I didn't grill/broil them (don't like mine - use it as a second oven and as DH was not available to B-B-Q I took other measures). I cooked in a frypan/skillet - with a film of oil in the pan I sealed the large bit sizes of chicken and then slowly poured the heated marinade into the pan and let the chicken absorb it (I used about a 1/4 of the marinade) and the chicken was cooked in about 12 to 15 minutes on a low to medium heat. Doing by this method I would recommend that the chicken pieces be cooked larger so you can absorb more of the marinade to get a sticky texture. Served extra marinade over the rice and chicken and had steamed vegetable on the side. A delicious dinner enjoyed by the DM, DS and myself. Made for Newest ZAAR Tag 2008 (April).

 

Well, I made this marinade last week for my wife. Now, I have to make it 2 more times this month because she thought it was my "best ever" chicken kabobs and shared it with family memebers!<br/>The family memebers now want me to make it for their special occasions coming up!<br/>I have a lot of cooking to do because of this recipe...........