Grilled Bread With Ham and Mozzarella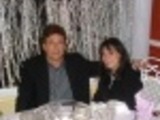 A nice starter to your Italian-themed summer dinner.
Directions
Heat broiler.
Arrange bread on baking sheet lined with aluminum foil. Toast 4-6 inches from heat, turning once, until light golden.
Rub one side of bread with garlic, then drizzle with oil. Arrange prosciutto slices on brad, trimming as needed. Top with cheese.
Broil or grill until cheese is bubbly and starting to brown, about 2 minutes. Transfer to serving platter and serve at once.
Most Helpful
I tried this recipe with prosciutto. We love prosciutto. But in this recipe, it was not a success. It was way too salty because it was baked. And also when we took a bite, all the remaining of the slice was following. It would be better to chop it a little bit. I'm sure with ham it's even better. I'll have to try. Thanks Jackie. Made for 123 hit wonders
These were REALLY good. Will definately be making again. I didn't have any garlic cloves, so I mixed some minced garlic with the olive oil and let sit while the bread was toasting up, and then brushed it on and toasted another minute or two before putting the other stuff on. Added sliced tomato on a couple just to see (I love Garlic tomato cheese bread, and thought it might work on here too) and it was GREAT! Thanks for sharing :)