PaulaG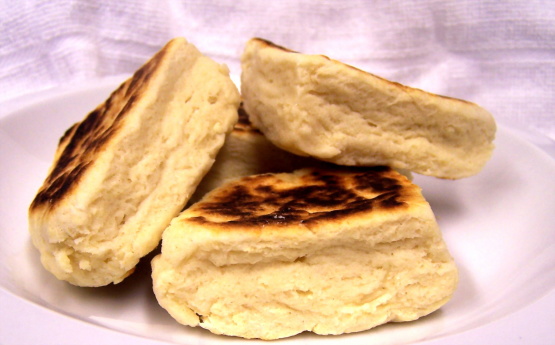 Canadian all purpose flour is very hard; the American equilvant is bread flour. This recipe comes from the town of Fergus, Ontario. A griddle is a large cast iron pan.

This could have been a good recipe, however, it called for WAY too much baking powder. Baking powder will really change the flavor and texture of a recipe, plus most of them contain aluminum... it is always something you will want to use as little of as possible. If you are going to make this recipe knock the baking powder down to 2 teaspoons or less. If like me you substituted buttermilk or plain yogurt for the milk, try adding 1 tsp baking soda to make the batter a little lighter, and again, too much baking soda will make a recipe salty, so just 1 teaspoon will do. My batter came out runny, like pancake batter, which was fine. I cooked them just the same (by 1/4 cup dollops on the griddle, flipping them once) and they worked just fine. Blueberries, or raisins add a little extra sweetness and moisture to the finished product as well.
Heat flat cast iron pan on low heat for 10 to 15 minutes or until hot. (To test, sprinkle with a little flour; if it browns in 10 to 15 seconds, the pan is hot enough.).
Meanwhile in a large mixing bowl, stir flour, baking powder, salt and sugar; with fingertips, rub in shortening or lard until crumbly.
Whisk egg with 1 cup of the milk.
Make a well in the centre of the dry ingredients; pour in the liquid. With wooden spoon, stir to make soft, but not sticky dough, adding more milk as needed.
Turn out onto floured board, knead 3 or 4 times. Pat or roll to no more than 1/4 - 1/2 inch.
With a sharp knife, cut into small triangles.
Place a few at a time on pan; cook, rotating scones occasionally for 5 to 6 minutes or until bottoms are browned.
Serve hot.