Green Grape & Blueberry Pie
congakim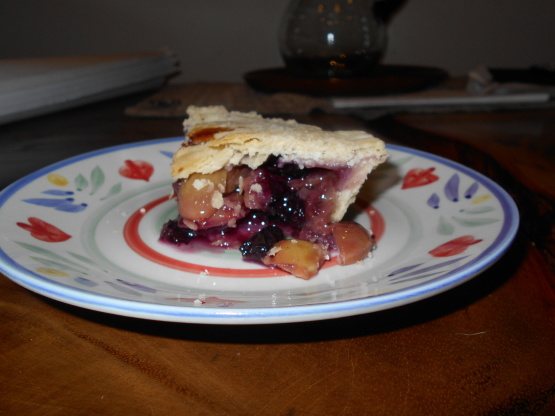 Having recently moved to Costa Rica, I have limited utensils to work with in my kitchen. For baking, I'm using my Black and Decker toaster oven, with the mini pans associated with a toaster oven. And being a little remote with no stores close, I try not to waste anything, That being said, I had green grapes that had to be eaten or used. I thought pie! I'd never seen a grape pie before, so I just started to put this easy recipe together. The blueberries were an after thought, I was about done cooking the grapes, thought the sauce was a little thin, and remembered I had frozen blueberries, threw them in and...viola! Grape & blueberry pie!! I made a really easy veg. oil pie crust, it turned out so flakey and delicious.
wash and pull off grape stems.
cut on half.
in saucepan put grapes, sugar, corn starch and 1/4 C water.
bring to boil, stir, and mash grapes.
reduce heat, continue cooking 5-10 minutes, don't forget to stir.
stir in blueberries and cook 5 more minutes.
allow to cool slightly then spoon into pie crust, top, seal, vent crust.
bake @ 450 for 10 minute reduce oven to 350 and bake 25 min or until crust is brown.