JustJanS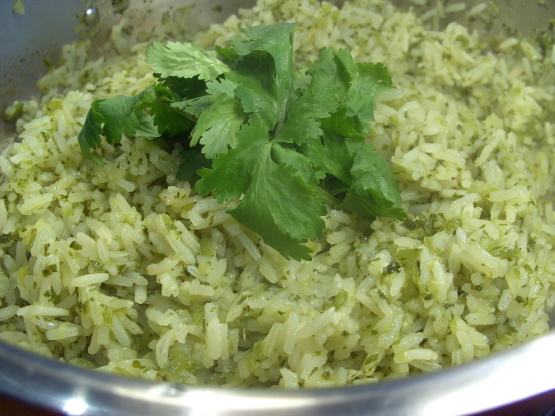 A tasty side for simple grilled chicken or meat. Being gluten-free I tend to eat a lot of rice and this makes for a great change. I love the peppery flavour of coriander. Use a gluten-free stock to make this recipe suitable to a gluten-free diet (I like to use Massell brand )

Made this for dinner tonight. The rice had a very nice flavor and went well with the chicken I fixed in the crock pot. It is so versatile...it would go wonderful with a Mexican meal as well as with beef, chicken, or pork. I will definitely be making this recipe again soon. Thanks for posting Jubes. Made and reviewed for the 49th AUS/NZ Recipe Swap.
Place the capsicum, onion, garlic, coriander and parsley in a food processor. Blend to a fine paste. If you dont have a processor- chop ingredients as finely as possible or use a mortar and pestle. Set aside.
In a saucepan, heat the butter and oil. Add the rice and fry gently for 2 to 3 minutes- until the grains become translucent.
Quickly stir the herb paste into the rice. Continue to cook over heat for another 2 minutes, stirring constantly.
Pour in the boiling stock and season with pepper. Bring to the boil and then reduce the heat to a simmer. Cover and cook 10- 15 minutes, or until the rice is tender and the stock has been absorbed. Watch closely after the 10 minute mark and add some extra water if more liquid is required.
Remove from the heat and leave to stand , with the lid covered for a few minutes.
Fluff the rice with a fork to seperate the grains and serve garnished with chopped coriander leaves or sprigs.