Green Bean-Mushroom Casserole (By Paula Deen)
lazyme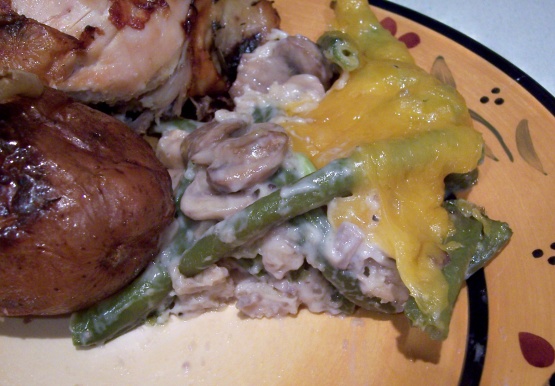 This is a highly rated recipe from Paula Deen of the Food Channel and worth making! I have tweaked it slightly and doubled the complete amounts to suit our tastes --- Paula has a house seasoning blend mix which is 1/2 cup salt mixed with 2 tablespoons black pepper and 2 tablespoons garlic powder, she uses a small amount in this casserole, you have the option of omitting the fresh garlic and adding it in, store the remaining mix in an air tight container for up to 6 months, I strongly recommend using low-sodium cream of mushroom soup

I made this for Thanksgiving and we all thought it was delicious.I loved the fresh mushrooms and green beans.So much better than using the canned ones.The only thing I changed was I only used one can of mushroom soup and one can of the onion rings.It was still just right for us.This is the best green bean casserole! Thanks for the recipe.
1⁄4 cup butter

3

garlic cloves, minced

2

cups fresh sliced mushrooms (does not have to be exactly 2 cups)

6

cups fresh green beans (ends removed and cut in half, can use more or less if desired)

6

cups low sodium chicken broth

2

(10 3/4 ounce) cans low-sodium condensed cream of mushroom soup, undiluted
1⁄4 cup fresh grated parmesan cheese
1⁄2 teaspoon black pepper (or to taste)
salt (optional)

2

(2 7/8 ounce) cans French fried onion rings (such as Durkee)

1

cup grated old cheddar cheese (can use (to taste)
Melt the butter in a large skillet over medium heat; add in mushrooms and garlic; cook stirring until mushrooms loose their moisture then set aside.
Place the green beans in a medium saucepan; cover with chicken broth and bring to a boil; cook for about 8-10 minutes or until just fork-tender drain but do not rinse.
Butter a 3-quart casserole dish (or a little larger).
Place the mushroom soup, onion/mushroom mixture, Parmesan cheese, black pepper and onion rings in a large bowl; mix well to combine, add in the cooked green beans; mix to combine.
Transfer to the prepared casserole dish.
Bake in a preheated 350 degrees F oven for 20 minutes.
Remove from oven and sprinkle the grated cheddar cheese on top; return to oven for about 5-7 minutes or until the cheese has melted.