Thorsten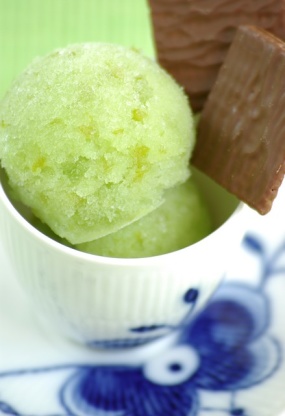 With my love for frozen things and apples, this was a perfect thing for me. The recipe yields 4 servings, but when I'm eating it...well, it's just for one. Great served when having a small bbq with friends or for just a weeknight dessert.

LOVE it! I love apples, I love ice cream, so I love this. It is so easy to make and the food coloring adds a fantastic color to it. The consistency of my sorbet was something between sorbet and a granita, but that is just my personal preference. This is something for a warm summer afternonn or just when you want something COOL. Thank you Amy. (29-07-2007). Made it again and leave it for two days in the freezer. Then put it for 10 minutes into the fridge before serving. It was easy to sponn the sorbet and the consistency was even better. (06-08-2007)
Cut, core and coarsely slice the apples.
Place the apples in a saucepan along with lemon juice, sugar, and apple juice.
Boil for approximately 3 to 5 minutes or until soft.
Remove the green apple mixture from heat and cool.
Place in a blender or food processor and puree the green apple mixture until smooth.
Strain and transfer to a small container. Stir in green food coloring, mix well and place the green apple sorbet mixture in the freezer.
This can be made two days before.
When the green apple sorbet is completely frozen, remove from the freezer and place in a food processor or blender and puree again.
Return to the freezer until ready to use.