Greek-Style Tuna and Bow Tie Pasta Salad
This salad is delicious, and great to take in a container for a brown bag office lunch! The tuna can be replaced with cooked chicken breast. Plan ahead this needs to chill for a minimum of 5 hours or overnight.
Directions
Cook the bow tie pasta in salted boiling water until JUST firm-tender; drain and rinse with cold water, then transfer to a large bowl and toss with 2-3 tablespoon oil.
Add in the tuna, feta cheese, cucumber, red onion, cherry tomatoes and olives; toss to combine.
To make the dressing; mix/whisk together olive oil, lemon juice, oregano, garlic powder (if using) Parmesan cheese, salt and pepper.
Pour the dressing over the pasta mixture; toss to coat well.
Cover and chill for a minimum of 5 hours or overnight.
Most Helpful
After trying another popular pasta salad recipe from this site, we decided to branch out a bit. Four out of five in our family like this one better than a simple recipe made with Italian dressing. I used just over a 1/4 cup oil, and the juice from a whole lemon, and 12 oz. of bow-tie pasta. Will definitely make this again; it tastes like summer. =)
This is the perfect brown bag lunch! I made this exactly as posted, except I actually used 16 oz. of bow tie pasta. There was plenty of dressing, though. I used cucumber and tomatoes from the garden, which made it taste extra fresh. I also added 2 cans of tuna. I will be making this again!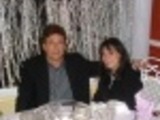 I followed Engrossed's advice and substituted green pepper for cucumber because I do want it to last several days. Otherwise I made as directed (and definitely included the garlic). This is an outstanding tuna pasta salad. The feta cheese and olives elevate the flavor.