Greek-Style Chickpea Salad
Redsie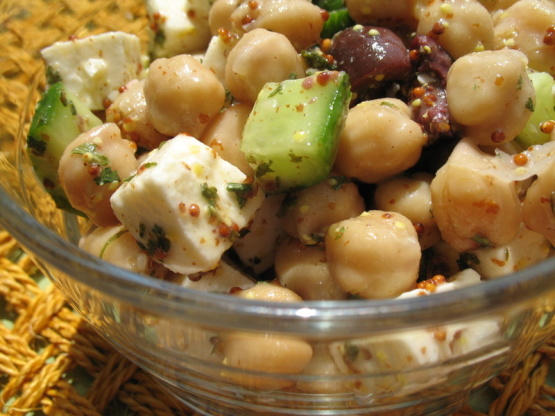 This is a light, healthy, and refreshing salad! I found this gem in the Cook's Illustrated "The Best Light Recipe" book and I have made it many times since. Basically you are just chopping things up and throwing them together in a bowl so even the kids can help with this one. Very tasty, and excellent served over a bed of greens and herb garlic pita chips. I've tweaked it ever so slightly. This salad can be refrigerated in an airtight container for up to 3 days. Season with additional lemon juice, salt, pepper, and oil as needed before serving. Very easy clean up, and your salad is ready in less than 20 minutes.

I just whipped up this healthy salad for our lunches tomorrow. Yum! It is really flavorful and easy to prepare. The only change I made was to add extra kalamatas and a little more feta. I already copied this down because I will make it again. Thanks!
In a large bowl, toss together chickpeas, onion, cucumber, mint, feta and parsley.
In a small bowl, whisk together lemon juice, olives, mustard, oil, and garlic.
Pour dressing into the large bowl with chickpeas and vegetables until combined.
Season with salt and pepper to taste.