Serah B.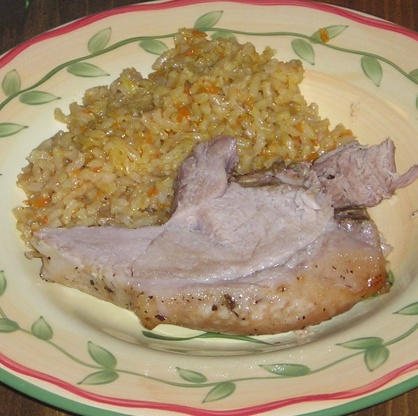 I printed this years ago from about.com who listed it from the National Pork Producers Council. This is a great recipe and when my grill was out of commission, I tried in my crock pot as well. I am glad I fought the temptation to increase the lemon and garlic, because the amounts listed are just right.

I turned this into an experiment. I followed the recipe but had two 1 1/2 lb. pork tenderloins. I cooked one in a crock pot and the other in the oven. My dinner guests were the judges. The oven tenderloin won for looks and being able to identify the ingredients. The crockpot version won for tenderness and overall taste. The final vote was in favor of the crock pot. When I ran into my guests two nights later at a restaurant that served pork tenderloin, they were discussing whether or not my pork was better than the restaurant's. The restaurant's chef is excellent. That makes it a repeater.
Place pork loin in a large zip-loc bag.
(If I will be pressed for cooking time or my roast is very thick, I will butterfly it at this point.) Combine remaining ingredients and pour over pork in bag.
Seal and refrigerate overnight.
Remove pork and discard the marinade.
Grill over indirect heat on a covered grill until meat thermometer registers 155°F, about 1 to 1/2 hours.
Let rest 10 minutes before slicing thinly to serve OR proceed as above except place roast in crock pot with 1/4 cup good chardonnay and 2 Tablespoons water.
Cook on low for 6 to 8 hours.