Greek Chicken and Artichoke Penne
Prep 15 mins
Cook 15 mins

something i just put together for a quick dinner
Directions
Boil Pasta in salted water till done.
Wash and dice raw chicken breast.
Heat oil add butter and melt.
Saute' chicken breast for 7 minutes.
Add garlic saute 3 minutes.
Season with salt, pepper and oregano.
Add tomatoes and chicken broth
Simmer for 10 minutes.
Pour sauce over pasta and top with feta cheese.
Reviews
Most Helpful
This was pretty good, but the directions were a tad confusing. I ended up adding the drained artichokes with the garlic and sauteed them for a few minutes, then added the brine with the tomatoes. I used Cavender's Greek Seasoning. I also think it could benefit from some additional feta. Made for Football Tag Week #9.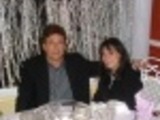 This was VERY tasty (5 stars), but I'm only giving it 4 stars because the directions were a little lacking -- couldn't find where I was to add the artichoke hearts or what to do with the reserved liquid - so I just added them with the tomatoes and didn't use the liquid. Flavors were very good, I added a couple sprinkles of some Greek Seasoning I just received in a swap as well as the oregano. Very tasty dish and quick and easy to prepare. Thanks School Chef, and congratulations on your Football Pool Wk #9 win!!