Grandma Perritt's Pavlova With Custard Cream
awalde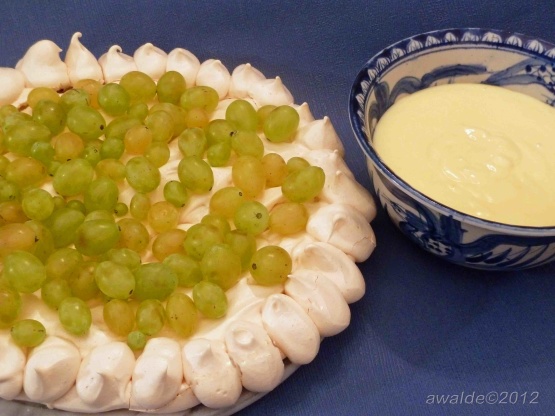 Pavlova is a dessert made very frequently down here in Australia. Both Aussies and New Zealander's claim it is from their country. This is my Grandma's recipe - I added my custard cream recipe (to use us the egg yolks). Serve with whipped cream and topped with fresh fruit (this is called being "dressed") A dressed pav is best eaten straight away, left overs may go soggy. Cooking time includes cooling time. A bit tedious to make, but oh so worth every bite!

Top Review by awalde
I though I had kiwis to dress the pavlova, but I was too late. Somebody else got them before.
The pavlova came out very good, I used a fan forced oven to bake it and for this reason I baked it at 120?C for 70 minutes (plus resting in the oven).
Finally I dressed the pavlova with raisins and served with the cream.
Delicious crispy and melting in the mouth! thanks a lot for this wonderful dessert!
Heat your oven - as hot as it will go while you prepare the pav mix.
Place baking paper on a pizza tray and set aside.
In a large clean bowl (metal or glass) beat the egg whites on high until thick and "soft peak stage" (when you lift the beaters up, the egg whites resemble whipped cream).
Turn the beaters down to low, add the sugar 1 tablespoon at a time. Once all in, return to high and beat for 7-10 minutes until the sugar is dissolved (check by rubbing a small amount of mix inbetween your thumb and finger - there should be no grit).
Turn the beaters to low and add the flour and vinegar, mix well.
Use a metal spoon to scrape out the mix onto the lined tray.
I aim for a 10 inch circle, it will be a mound.
Place in a hot oven and turn down to 130oC straight away. Bake for 1 hour. Turn the oven off and leave for another hour. Open the door and leave for another hour. The pav needs to be cold when it leaves the oven (this makes the outside crunchy and the inside soft marshmellowy).
Dress just before serving.
Custard cream:.
In a bowl (medium) beat the egg yolks, flour, sugar and vanilla.
In a saucepan gently heat the cream and milk over a low heat.
Pour the yolk mix in and whisk constantly until thick and almost to boiling point.
Set aside and cool for 5 mintues, then pour into a clean bowl.
Place cling wrap over the top (to catch the skin so you can discard it).
Serve on the side (cold) to a dressed pavlova.