jlzic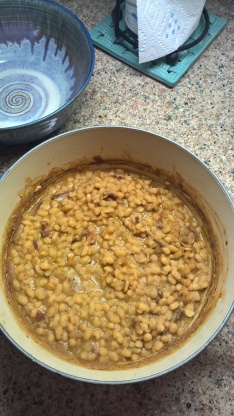 Grandma Brown's canned baked beans are available in the northeast USA but not common elsewhere. They are very simple with only 6 ingredients named on the can. This is a process to recreate them faithfully. Note that these beans are not tomato based, they are thick not saucy, and they are only mildly sweet. The final product either from the can or from the recipe is easily modified to your taste by adding bacon, tomato ketchup, brown sugar, spices. But they are great the way they are. They taste like beans!

Top Review by lyn621
I made this recently and was very happy. It is VERY close to the canned version. I used white beans I bought at Costco and they turned very dark but were very tasty. I live on the west coast now and cant get grandma browns baked beans here. (I dont want to pay alot for shipping) This recipe will curb my cravings from back east. Thank you!!
add 1 teaspoon baking soda to 6 cups water.
bring water to a boil.
sort through beans for debris.
add navy beans to water.
boil 10 minutes.
turn off heat.
cover pot.
let sit overnight.
rinse beans well.
add beans and all other ingredients to oven proof pot with tight fitting lid.
stir well.
add water until beans are just covered.
cover pot with lid.
bake 5 to 6 hours at 300°F.
every hour stir and add water to cover if beans are drying out.
final product should be a thick and not runny.