Grand Marnier Nanaimo Bars
Glutton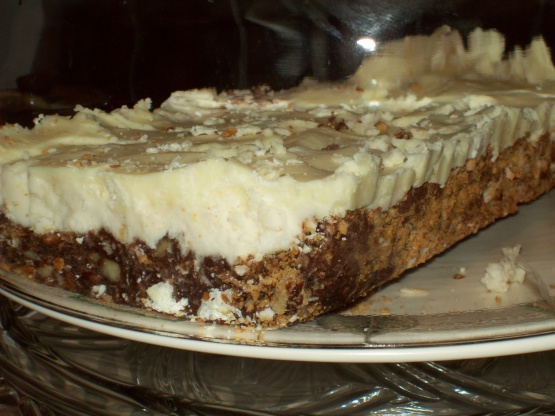 Posted for the Canada stop on the Summer 2008 Zaar World Tour. Everyone in British Columbia knows that these bars have zero calories during Bathtub Week! In Nanaimo, close to 200 tubbers (in every type of craft imaginable) entered the fun "bathrub race" competition in 1967 and amazingly, 47 completed the 36 mile course to Vancouver's Fisherman's Cove across the straits of Georgia. An annual event for more than 40 years, the "Great RACE" still starts and finishes in Nanaimo harbor but now covers a much more grueling course and includes a week-long celebration. Cook time includes chill time.
473.18

ml graham wafer crumbs

236.59

ml coconut, unsweetened, flaked

118.29

ml pecans, toasted, chopped

158.51

ml butter

78.07

ml cocoa powder, unsweetened sifted

59.14

ml sugar, granulated

1

egg, beaten

GRAND MARNIER LAYER

473.18

ml icing sugar

59.14

ml butter, softened

59.14

ml Grand Marnier or 59.14 ml orange liqueur

14.79

ml orange rind, coarsely grated

CHOCOLATE TOPPING

14.79

ml butter

113.39

g semisweet chocolate, melted
In bowl, stir together crumbs, coconut and pecans.
In small saucepan, gently heat butter, cocoa and sugar until butter melts.
Remove from heat; whisk in egg.
Blend into crumb mixture.
Press into greased 9 inch square cake pan.
Bake in 350F oven for 10 minutes. Let cool on rack.
Grand Marnier Layer: In bowl, place half of icing sugar with butter, mix in half of the icing sugar with butter; mix in Grand Marnier, remaining icing sugar and orange rind.
Spread over base.
Chocolate Topping: Stir butter into chocolate until melted; spread evenly over Grand Marnier layer.
Let cool for 20 minutes in refrigerator; cut into bars.
(Bars can be covered, refrigerated up to 2 weeks, or frozen up to 2 months. Let soften slightly before serving.