Gorgonzola Pear Salad With Merlot Shallot Dressing
Zurie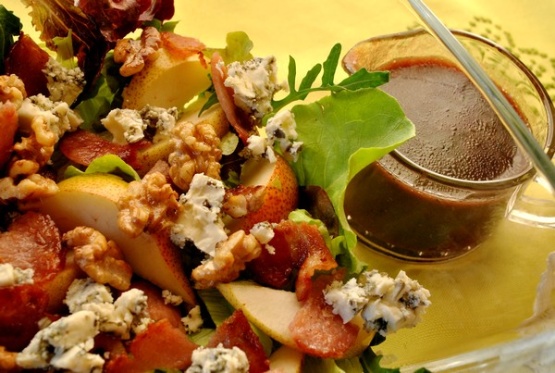 An elegant summer salad...found at The Fresh Market and tweaked slightly! Not sure why it was dubbed "Merlot" Shallot Dressing, as the original recipe calls for Rose. I used a Pinot Noir and enjoyed the results, so I think any lighter red will work well.

Top Review by Zurie
Wonderful salad! I'd serve this as a light lunch, with great Continental-style bread and a glass of chilled white wine. I made it as given, except I used less than 2 cups of red wine. I did use a merlot because it was available! Usually a cook is a little lazy to boil down a sauce, but this one is really worth it! I suggest tasting the sauce: I do think it needs more brown sugar than the recipe says: I had to add sugar, because the sauce was a bit acidic. I roasted/toasted the walnuts in the same pan in which I fried the bacon. All in all, this is a great salad, and more worthy of being served as a light meal, rather than as a side salad. Thanks, FolkDiva, a great recipe!
Combine shallots and wine in a medium sauce pan over high heat. Bring liquid to a boil. Reduce heat to medium and simmer until reduced to 1/4 cup, about 20 to 30 minutes.
Let mixture cool completely. Add vinegar, sugar, garlic and mustard. Slowly whisk in olive oil. Season with salt and pepper. Refrigerate dressing until ready to serve.
In a large bowl, mix baby lettuce, cheese, walnuts and bacon. Add pears and toss with Merlot Shallot Dressing just before serving.