Rita1652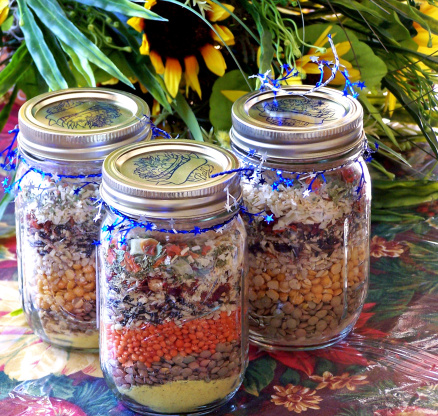 How pretty is this? Give as a gift, share comfort food or give to someone going on a camping trip!!!! Starting the New Year with Herbs and Grains! This brings much luck and never to go hungry and always wanting to share with those in need or want. I make 12 pint jars and give for Christmas gifts. Oh So So so perrrfect for the cold weather to come......................

gave this soup to my aunt for christmas in a basket with a movie, giant soup mug with a handle & some movie timie munchies...figured it would be a great rainy day meal & movie and i thought right! my aunt loved the idea and the soup!
In a 1 1/2 pint jar, layer the bouillon, to the Bay leaves. Tap jar so ingredients settles. Wrap the pasta in a baggie, and place in the jar. Seal tightly.
Attach a label to the jar with the following instructions:.
TO PREPARE SOUP: Remove pasta from top of jar, and set aside. In a large pot over medium heat, brown beef and drain excess fat add garlic to brown slightly. Add diced tomatoes, tomato paste, water, and soup mix. Bring to a boil, then reduce heat to low. Cover, and simmer for 45 minutes. Stir in the pasta, cover, and simmer 15 minutes, or until the pasta, peas, lentils and barley are tender.
Season with salt and pepper if needed.
Live, Love, & Laugh!