Hey Jude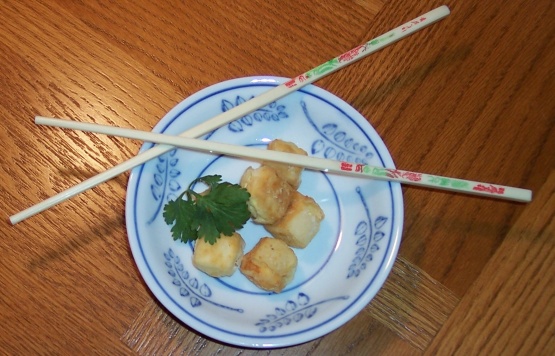 Fast, easy and tasty. Goes well with Thai curry. The only tofu that my BF (serious carnivore) will eat! Prep time is mainly the time that the tofu is draining.

mmmm, tastes like the fried tofu I get from local boba milk tea shops. I used my deep frier and added cayenne pepper to the dry mix to give it a little kick. Thanks a lot!
Rinse the tofu.
Place tofu on a plate, cover with two large heavy plates and let drain for 30 minutes.
Dry the tofu and cut into small bite-sized cubes.
(3/4 inch or less).
In a large bowl, mix the flour, cornstarch and seasoning salt.
Carefully dredge the tofu bites in the seasoned flour mixture, making sure they are well-coated.
Fry, half at a time, in peanut oil at medium-high heat for about five minutes or until golden and crispy.
Repeat with other half of the tofu.
Best eaten piping hot as soon as they are cooked.
May be eaten plain, dipped into liquid honey, or they go very well with red Thai curry.