Parsley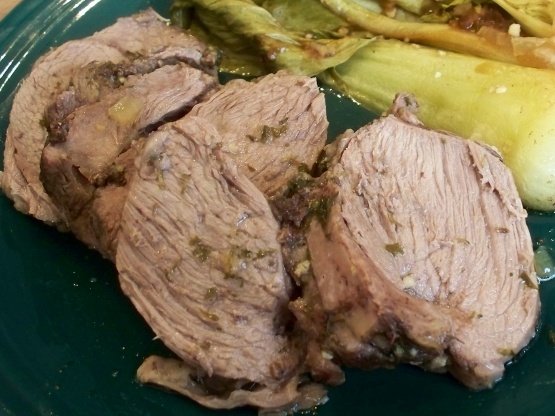 My grandmother always makes it for Passover seder. I imagine it would work very well for Easter as well. She clipped the recipe out of some newspaper a decade ago or so. You can used dried herbs if you use 1/3 the amounts of herbs, but it isn't as good.

One of the best roast lamb recipes I have ever had. This is at the top of my list to make again we enjoyed it so much! The fresh herbs are best to use and blended so well together!
Preheat oven to 350°F; oil roasting pan.
Combine onion, parsley, thyme, rosemary, sage, lemon peel, garlic, and salt. Mix well.
In a separate bowl, combine honey and lemon juice.
Place lamb meat side up on a flat surface. Season to taste with salt and pepper. Brush with honey mixture and sprinkle with herb mixture. Roll and tie. Rub roast with honey mixture.
Place roast on a roasting rack in the oiled pan in the preheated oven, allowing 20 to 25 minutes per pound for medium rare. Brush with honey mixture every 20 minutes. When all the honey mixture is used, brush with the pan drippings.
Let roast stand for 5 to 10 minutes before carving.
Add 1/2 cup water and deglaze pan. Thicken if desired and serve with lamb.