flower7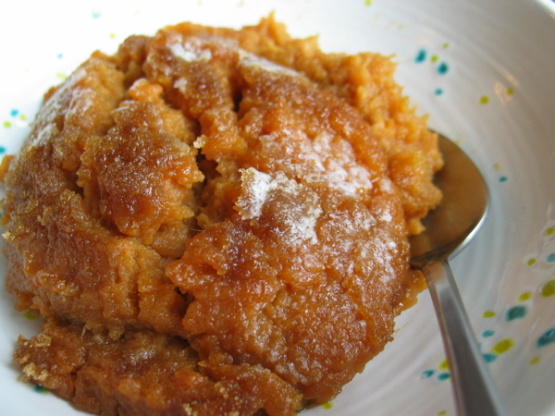 Part of my Thanksgiving dinner, this dish is a nice change from the more original sweet potatoe casserole. It is not as sweet as the ones that people usually compare to as a dessert.

Forgiven - - this will be served at Thanksgiving time this year! I tried it last night and it was delicious. I'm not patient though, so instead of baking the sweet potatoes in the oven, I wrapped them in saran wrap and microwaved them for 8 minutes and voila!---I was ready to whip them up. Thanks again for an awesome recipe! Krsi Sue
Preheat the oven to 350°F.
Line a baking sheet with foil.
Grease a 1- to 1-1/2-quart ovenproof serving dish or spray with nonstick spray.
Wash and dry the sweet potatoes. Stick them with a knife several times each to allow steam to escape. Put them baking sheet and bake until soft. (1-1/2 to 2 hours, depending on size).
Peel potatoes as soon as they are cool enough to handle.
Beat with an electric mixer.
Beat in 4 tablespoons of the butter. Add 4 tablespoons of the brown sugar and the salt, coriander, cinnamon, ginger, and lemon peel. Mix well.
Beat in the orange juice.
Place the potatoes in the prepared baking dish.
Sprinkle top lightly with remaining 2 tablespoons of brown sugar and dot with remaining 2 tablespoons butter.
Bake for 30 minutes until heated through.
To make ahead- After you put it together, and before baking, cover it tightly with foil and freeze. When ready to use, defrost the casserole and bake in a 350°F oven for 30 minutes.