CoffeeB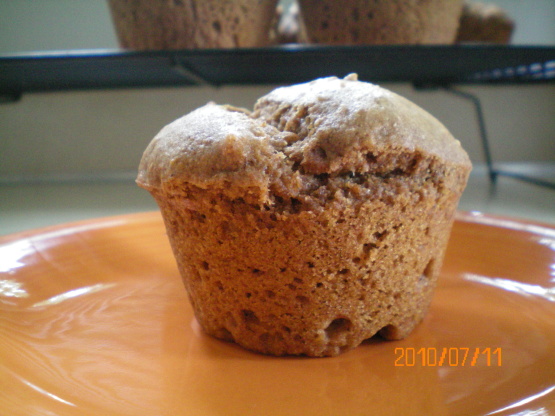 This recipe makes your house smell great well cooking. The reward is it is only 2 WW points.

A great recipe for the fall time of year...although I had a hankering to get some LF/LC muffins in the freezer for eating NOW. These are a nice little treat and practially guilt free. I only got 8 muffins from the mix that were good size. Maybe getting 12 would make each one 2 pts., as now they're probably 3. :-) I didn't know what 3/8's cup was for the applesauce and so I used a single serving cup of applesauce that I believe is 1/4 cup or so. Seemed to work perfectly. I can see adding some raisins/craisins to the mix would also be a great addition as a previous reviewer had stated. Of course then you're adding more pts. as well.
Preheat oven to 350 degrees. Line 12 muffin tins with paper liners.
In a large bowl, sift together dry ingredients. In a small bowl combine liquids and then pour over dry ingredients.
Mix until moistened but be sure you do not over mix. Spoon into muffin tins.
Bake for 20 minutes or until a toothpick inserted in the middle of a muffin comes out clean.
Remove muffins from tin and cool on a wire rack.