Ginger Oat Biscuits/Cookies/Wedges
Boomette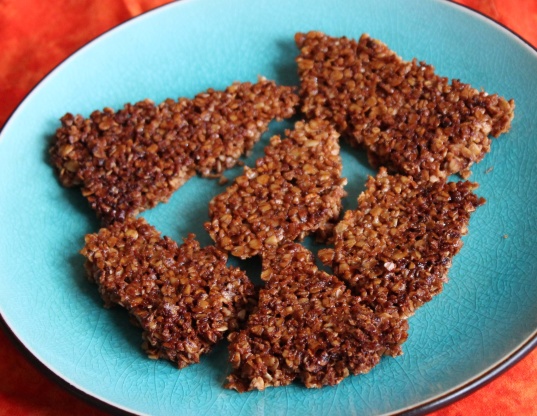 Cheap and easy to bake! Omit ginger for plain oat wedges.
The flavor of these cookies are amazing. I used dried ginger and honey. It's so easy to do. But it was a little bit hard to remove from the pan. So next time I'll grease the pan before adding the parchment paper. Thanks Delicious Bits :) Made for PAC Spring 2013
Preheat oven to 180c. Line an 8-inch, shallow, round cake tin with baking paper.
Place butter, syrup, and sugar in a pan over low heat. Cook, stirring, until melted and combined.
Remove from heat and add oats and salt. Mix together.
Place mix into pan, press firmly and smooth the surface. Bake until golden brown for approximately 20-25 minutes.
Leave in the pan until cool enough to handle, then turn out and cut into wedges while still hot. The wedges become quite hard when cooled.