Nif_H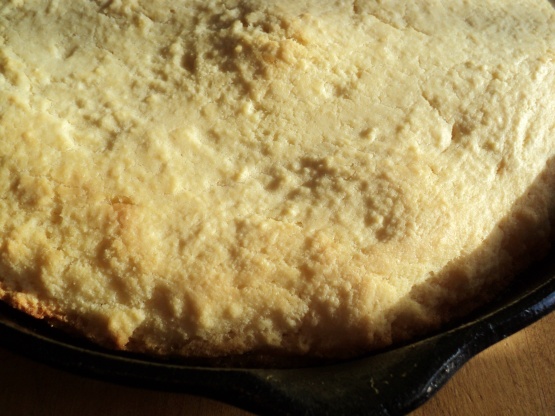 This recipe is from Gina and Patrick Neely. It's a great cornbread recipe.

Top Review by Nif_H
I always like using a cast iron pan so I enjoyed making this! It was very easy to make too. The only problem that I had was, by the time it browned, the cornbread was a bit dry. I think it would be nice to add some creamed corn to this or more of some other type of liquid. A little butter helped out with that though! We enjoyed this with chicken thighs and broccoli with cheese. Made for Went To The Market tag game. Thanks linguinelisa! :)
Preheat oven to 400. Place a 10-inch cast iron skillet in oven for 30 minutes.
In large bowl combine flour, cornmeal, salt, baking powder and sugar. Make a well in the center and add milk, eggs and melted butter. Stir just until moistened.
Remove skillet from oven and add bacon fat to skillet. Swirl around to coat bottom and sides, then pour in cornbread mixture. Smooth the top with a spatula, then place in oven and bake about 25 minutes, or until brown.
If you like, you can spread 2 tablespoons of butter on top of hot cornbread to melt.