Rita1652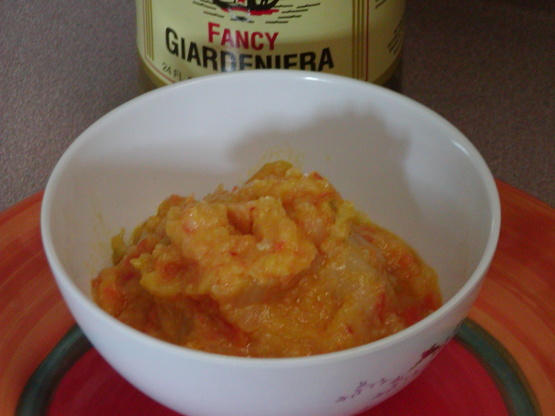 This is a spicy spread made for sandwiches. A healthier version of a spread. The Giardeniera consist of pickled carrots, cauliflower,cerlery,pepperoncini,red peppers and salt so taste before you salt. You can find these in the pickle section of your supermarket.This spread is used in my Grilled Vegies on Toasted Ciabatta Bread Grilled Veggies on Toasted Ciabatta Bread.

Outstanding, even if I did mess it up. It was delicious. My mistake was to use Dark Balsamic Vinegar. It ended looking like well aged Guacamole. That didn't keep it from tasting wonderful, it just didn't look all that appetizing. I had no light Balsamic so I made the second Batch with Red Wine Vinegar. It was still good, it just didn't have that nice bite Balsamic has. My next trip to town I'll get some light and try it all again. In the meantime I'll close my eyes and enjoy. Thanx for posting this great recipe. Pierre
1

cup mixed giardiniera, vegetables rinsed and drained

1 -2

garlic clove

1

tablespoon olive oil

1

teaspoon white balsamic vinegar
Remove stem from pepperoncini and place all ingredients in a food processor or blender.
Process till a nice paste.
Taste to season with salt and pepper.
Spread on your favorite hero sandwich.