Giada De Laurentiis's Penne With Spinach Sauce
Boomette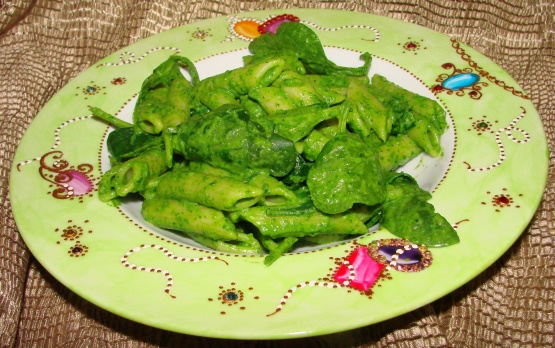 This recipe goes great with the Garlic Citrus Chicken!!

Just saw Giadia make this on Food Network and had to try it. Really delicious. And easy, too! I didn't use whole wheat pasta as I don't like it. I used plain ole semolina penne. Loved the goat cheese. I used Neufchatel (sp??) as my market didn't have reduced fat cream cheese. This sub was close enough. Loved the flavors and will make this again and again. I think I'll add a little nutmeg next time as I like how that goes with spinach. Thanks, Kerry, for posting the recipe.
Bring a large pot of salted water to boil. Add the penne and cook until it is tender but still firm to the bite, stirring occasionally, about 12 minutes.
Mince the garlic in a food processor. Add the goat cheese, cream cheese, 3/4 teaspoon of salt, 1/2 teaspoon of pepper, and half of the spinach leaves. Blend until the mixture is smooth and creamy. Set the cheese and spinach mixture aside.
Meanwhile, place the remaining spinach leaves in a large bowl.
Drain the pasta, reserving 1 cup of the cooking liquid. Spoon the pasta atop the spinach leaves in the bowl. Scrape the cheese and spinach mixture over the pasta mixture and toss to coat, adding enough reserved cooking liquid to moisten. Season the pasta, to taste, with salt and pepper. Sprinkle the Parmesan over and serve.