Ghirardelli Award Winning Brownies
Lainey39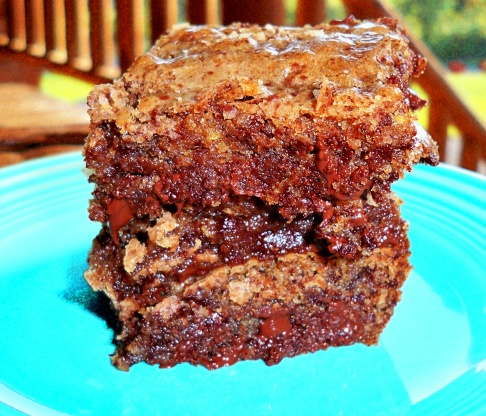 This recipe came from the can of Ghirardelli Brand Sweet Ground chocolate and Cocoa (found with the baking supplies). They were so great that I made them twice in one day! I omitted the walnuts but added the chocolate chips.

ever since I found this recipe on the Ghirardelli can, it's the only brownies I make. I always omit the nuts, but that's personal preference. I tend to double the chocolate chips, which is also personal preference :) they tend to dry out after a day, so make sure everyone eats them up fast!
Preheat oven to 350°F.
Using a spoon, stir eggs, sugar, and vanilla; add butter.
Sift together Sweet ground chocolate, flour, salt and baking powder.
Stir into egg mixture.
Add nuts and/or chocolate chips.
Spread into 8" or 9" square baking pan.
Bake 20-30 minutes.
For chewy brownies use 8" pan and less baking time.
For cake like brownies use 9" pan and more baking time.
Cut into squares.