Ghana Salad from Zoe's Ghana Kitchen
Food.com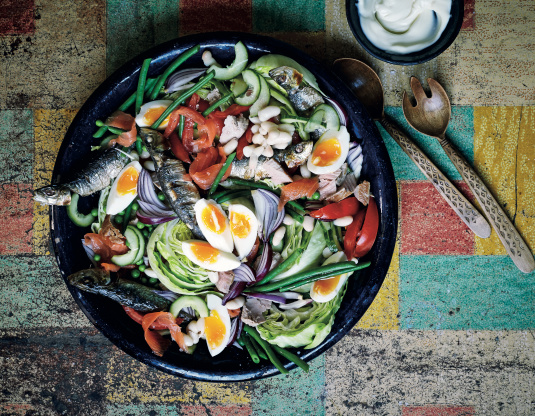 Text excerpted from ZOE'S GHANA KITCHEN © 2017 by Zoe Adjonyoh. Reproduced by permission of Mitchell Beazley. All rights reserved. <br><br> *This is basically the mother of all salads with everything but the kitchen sink thrown in – a hugely substantial feast of colour, texture and flavour. I have to point out that this is normally not a very healthy salad with its lashings of mayonnaise and/or Marie Rose sauce, but I've come up with a recipe that focuses on fresh ingredients rather than the canned ones commonly used (canned baked varieties are a favourite in Ghana!) while sticking to the original formula. <br><br> Photo credit: Nassima Rothacker.
Preheat the grill to medium. Place the sardines and tuna steak on the grill rack and grill for 10 - 15 minutes, turning halfway through the cooking time. Leave to cool, then chill in the fridge before adding to the salad.
Place the lettuce, tomatoes and onions in a large bowl, then add the green beans, peas, cannellini beans and smoked salmon.
Flake the grilled tuna and add to the salad, season with the sea salt and black pepper and mix together carefully. Add the grilled sardines and garnish with the soft-boiled egg quarters.
Cover and chill before serving. When ready to serve, dress with salad cream or mayonnaise to taste and serve with warm toasted baguette, ciabatta or hard dough bread.
Tips:.
I used to drown my Ghana Salad in salad cream – guilty pleasures – but if you want a healthier option, make a vinaigrette of 3 parts olive oil to 1 part balsamic vinegar and season with sea salt and black pepper, then add to the salad before serving.
Hard dough bread (also known as 'butter bread') is a white loaf that is slightly sweet. It can be bought sliced or unsliced.
Recipe courtesy of Zoe's Ghana Kitchen by Zoe Adjonyoh. Get the book here: https://www.amazon.com/Zoes-Ghana-Kitchen-Zoe-Adjonyoh/dp/1784721638.